Hi,
I have been using Caddy for a few weeks sucessfully.
Recently, I tried to add a new subdomain to the bottom of Caddyfile (motioneye), but I am getting an error (see screenshot). If I remove the new subdomain eveything works.
I am using Cloudflare for DNS, and everything is set up exactly the same for this subdomain as it is for the others.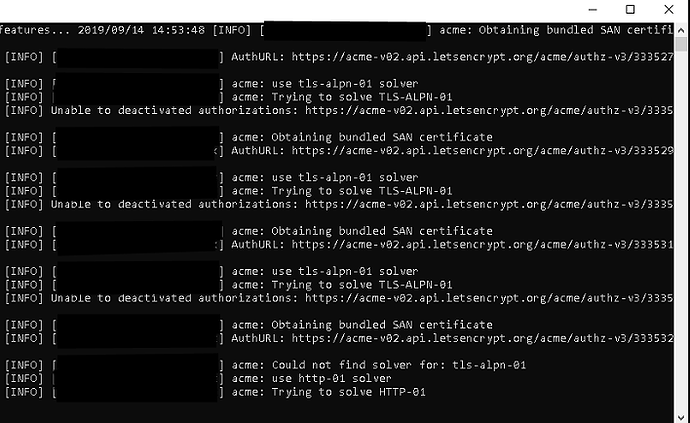 CaddyFile:
website.address {
    basicauth / username password
}

qbittorrent.website.address {
	basicauth / username password
    	proxy / 192.168.1.119:1345 {
        	websocket
        	transparent
    	}
}


booksonic.website.address {
    	proxy / localhost:4040 {
        header_upstream    X-Forwarded-Ssl    on
        header_upstream    X-Scheme           {scheme}
        header_upstream    X-Forwarded-Proto  {scheme}
        transparent
        websocket
    	}
}

lazylibrarian.website.address {
	basicauth / username password
    	proxy / localhost:5299 {
        	websocket
        	transparent
    	}
}

nzbhydra.website.address {
	basicauth / username password
    	proxy / localhost:5075 {
        	websocket
        	transparent
    	}
}

radarr.website.address {
	basicauth / username password
    	proxy / localhost:7878 {
        	websocket
        	transparent
    	}
}

sonarr.website.address {
	basicauth / username password
    	proxy / localhost:8989 {
        	websocket
        	transparent
    	}
}

sab.website.address {
	basicauth / username password
    	proxy / localhost:8080 {
        	websocket
        	transparent
    	}
}


jackett.website.address {
	basicauth / username password
    	proxy / localhost:9117 {
        	websocket
        	transparent
    	}
}

motioneye.website.address {
	basicauth / username password
    	proxy / 192.168.1.126:8081 {
        	websocket
        	transparent
    	}

}